CosmosWP supports default SITE Identity settings. With the Site Logo feature, you upload your own logo, and it will display perfectly in all templates sites. It is very easy just follow the instructions below.
Go to Appearance > Customizer
Header Builder Options>Site Identity
Upload your logo image file (gif, jpeg or png).
Hit the Publish button.
Other Options With Site Identity
Site Logo: You can resize the logo size, logo positions (Top, Right, Bottom, Left) according to your preference. Also, you can adjust the logo position for different screen sizes.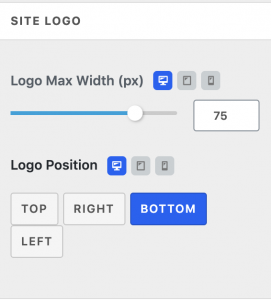 Any Issues?
If you encounter any issue related to site identity with CosmosWP then visit our support page here – CosmosWP Support.