Advanced Banner is the feature of premium version of CosmosWP. With this feature, you can control so many advanced options in the banner section of your website.
You can navigate to three advanced banner options with CosmosWP Pro – main banner, all page banner, and all post banner.
Main Banner
Location – Dashboard>Customize>Main Content>Banner Section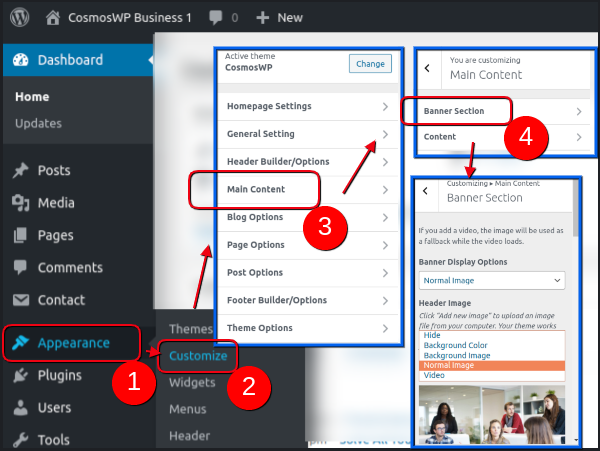 From the Main Banner section, you can control banner options of the main banner like banner display, banner title, banner section color, banner content position, banner overlay color, banner height, and so on.
All Page Banner
Similar to Main Banner, you can control every single part of banners of all pages through All Page Banner setting.
Location – Dashboard>Customize>Page Options>Banner Setting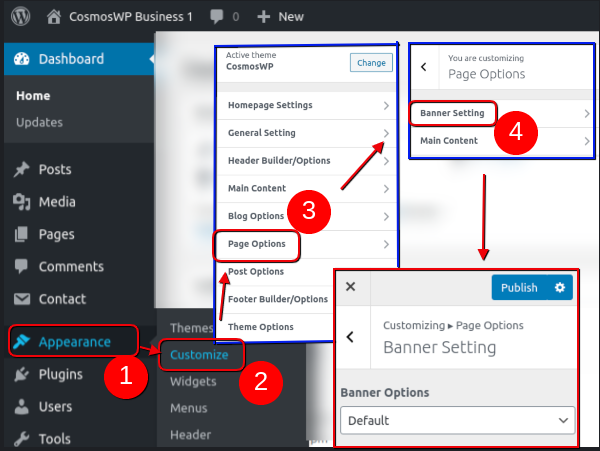 All Post Banner
Just like Main Banner and All Page Banner, you can control every single banner options of post banners.
Location – Dashboard>Customize>Post Options>Banner Setting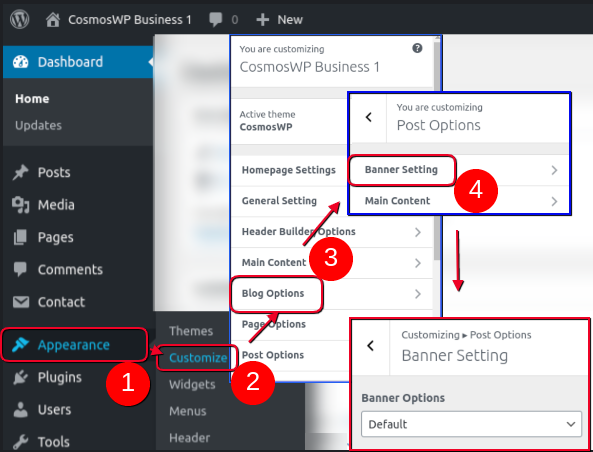 Below are the customization options that you will find in each of these three advanced banner options.
Banner Display Options
Banner Display Options lets you choose from five banner display options –
Hide (No banner)
Background color
Background Image
Normal Image
Video
Single Banner Section Title
You can enable or disable the banner section title from here. If you enable the banner section title, you can choose to display the default title or use a custom title.
Single Banner Title Tag
Single Banner Title Tag lets you choose the heading levels for your banner title tag. The available header tag are H1, H2, H3, H4, H5, and H6.
Banner Text Alignment
You can align your banner text at the left, center, or right side on the banner.
Banner Content Position
Banner Content Position lets you place the banner content on the top, center, or bottom part of the banner section.
Banner Section Color
You can choose from infinite color options for banner section color.
Banner Overlay Color
You can enable or disable banner overlay color.
Banner Height
You can control the banner height to display in the desktops, tablets, and smartphones.
Background Image Options
With Background Image Options, you can choose the background size, background position, background repeating option, and background scroll or fixed movement. You can choose these control options individually for desktops, tablets, and smartphones screen.
Margin and Padding
Define your banner's margin and padding from here.
Any Issues?
If you find any issue related to Advanced Banner Options with CosmosWP Pro then visit our support page here – CosmosWP Support.